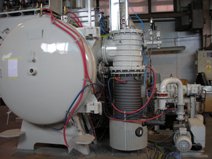 Thanks to huge experience in heat treatment equipments VACMAX Jan Błaszczuk offers renovations and modernizations vacuum furnaces in full of range.
Total renovated vacuum furnace made by VACMAX bring about that furnace is practically new confirmed received guarantee.
To correct productivity, extend economic conditions and bring back primary technical parameters of furnace we invite to contact with our experience technical team.
&nbsp